What is WARCRY?
About Us
At WARCRY, Martial Arts isn't just a hobby. It's a way of life. Our school constantly strives to be the best. Therefore we offer hands-on instruction from highly-experienced instructors, a beautiful training space, and a commitment to the individual improvement of each and every student. Accordingly we uphold an encouraging and motivating environment, and above all else, want to see you succeed. If you join WARCRY Martial Arts, you'll not only grow as an athlete, but you'll grow tremendously as a person.
WARCRY Martial Arts
Our Space
WARCRY Martial Arts can be found on 543 Main Street in Melville, SK. in a historic Masonic Temple Lodge that was built in 1923. Previously the home of International Mantis Kung Fu Canada this was the perfect home for WARCRY Martial Arts to set roots. We have two fully matted training areas, with plans to install spring floors in the future. Having two training spaces gives us the ability to run multiple classes at once, and offer open mat time where students can practice their martial arts, spar, or just come and hang out!
WARCRY
Our History
WARCRY Martial Arts' instructors Dillon and Kiana both learned their respective martial arts under the watchful eye of Mike Forster. The head instructor of Yorkton Martial Arts Training Center. Mike respectively learned Brazilian Jiu Jitsu out of Queen City Martial Arts from Joe Bossenberry and Chris Desautels, who are the longest serving and highest ranked BJJ instructors in the province of Saskatchewan. Joe and Chris both learned Brazilian Jiu Jitsu from the head instructor of Infight Brazilian Jiu-Jitsu. Rogerio Poggios, who runs his academy in Rio de Janeiro, Brazil.
WARCRY Martial Arts
Instructors
At WARCRY Martial Arts we are a family, and our school is bound to become our students' second home. We are a judgment-free zone, where mistakes are viewed as growth opportunities and your instructors and fellow students are your #1 supporters. You'll learn a lot of impressive skills and gain many new abilities at WARCRY Martial Arts, but the most important thing you'll acquire during your time here? Our community. Meet our team below!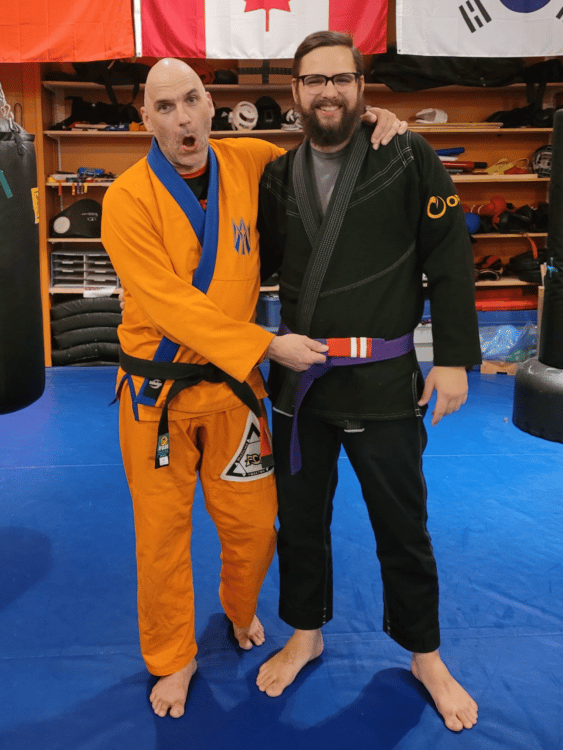 Owner and head instructor
Coach Dillon
Coach Dillon (in black) started his martial arts journey in 2016 at Yorkton Martial Arts Training Center under Mike Forster. He started assisting his great friend (and purple belt) Travis with the Youth BJJ class in 2017 and took over the class in 2019. He quickly discovered that teaching not only helped him have a greater understanding of martial arts – but he really enjoyed teaching and helping other progress in their own journeys.
It's Coach Dillon's goal to get as many people training martial arts as possible – he truly believes it would make the world a better place.
Ranks/ Certifications
2D Purple Belt BJJ (Infight)
SMAA – Level 1 coaching
​SaskSport – Respect in Sport
Read More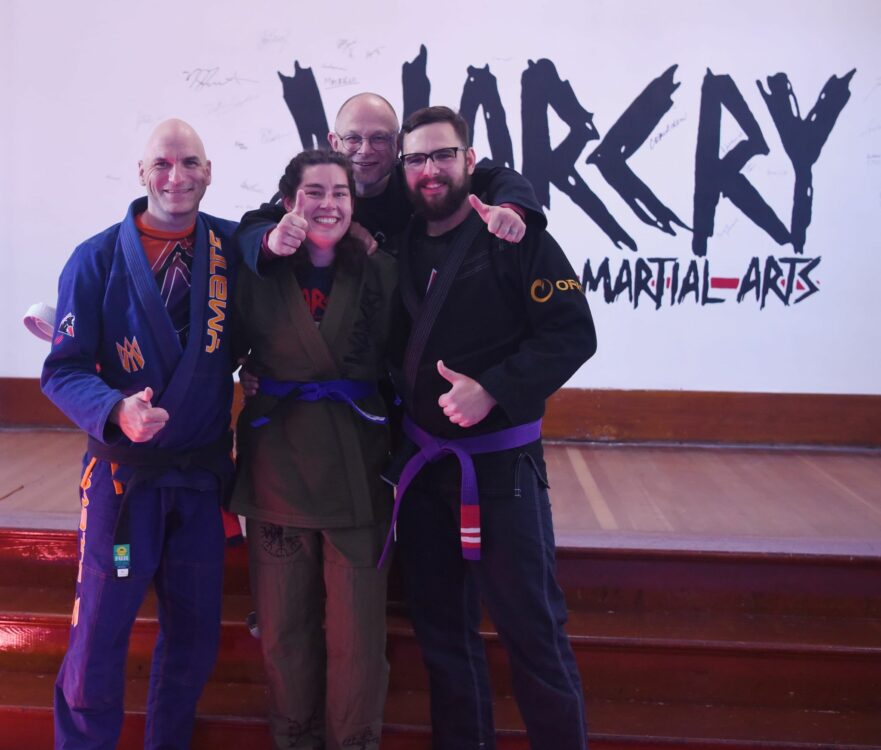 Owner - Women's BJJ instructor, Youth BJJ instructor.
Coach Kiana
Ms. Kiana Campbell started training BJJ at YMATC in 2019. Kiana enjoys being a role model for and teaching today's youth because they are so excited to learn. She hopes to provide a good example to those she mentors so they have fun, incorporate a healthy, active lifestyle, and build confidence. When Kiana is not on the mats, you can find her eating ice cream, hanging out with her pets, hiking, or maybe taking care of your pets as a register vet tech in Melville! She had always wanted to learn a form of self defense and luckily met a guy (Coach Dillon) already involved in martial arts. The introduction was a fit and the rest is history.
Ranks/ Certifications
Blue Belt (Infight BJJ)
SMAA – Level 1 coaching
​SaskSport – Respect in Sport
Read More
Dillon is a very good teacher. My son has loved his youth BJJ classes since day 1 almost a year ago and plans on continuing for years to come. Highly recommend.
Dillon has been teaching my son for almost a year and just recently, my whole family! Going to Dillon's class each week is something all of us look forward to! He makes the perfect mix of fun and serious learning that keeps all the kids and adults engaged and smiling! I can not recommend him enough to everyone!
Honestly I think Jujitsu has been the best thing ever. It's my favorite sport because it makes me stronger. I love my coach because he is so nice because he pushes me to the limit (well sometimes!) and I like it! Every step I am taking has been one more towards my goal of getting my black belt in BJJ...
Coach Dillon is one of the best instructors in Jiu Jitsu I have trained with, he is very professional, patient and knowledgeable always ready to go over complex concepts several times, highly recommended.
Where to start!!! Frankly, I can't say enough positive things about Coach Dillon. Back in 2019, I registered my 7-year-old daughter in the Brazilian Jiu jitsu program that was offered at Yorkton Martial Arts Training Center. Having zero background in MMA, I was very unsure of what I was actually registering my kiddo in! That was the BEST chance I took as a parent - bringing my kiddo to her first class! She Instantly fell in love with the sport...but as a parent, I was more impressed with the level of coaching and support she was receiving. It instantly felt like home! Her self-esteem skyrocketed and her level of confidence began to bloom...
Dillon and Kiana truly are TREMENDOUS people. Not only in the way they conduct themselves on the mats but off as well. With time I can honestly see them both as strong bastions in the overall growing BJJ community. From coming in from out of town just so the boys can SMASH each other on a "off" day. To the numerous rolling sessions that probably should have been privates, what else could you possibly do to prove your commitment to something. I'm really glad to be able to help in your kids class especially and I hope you all the best in your latest and greatest endeavor. 😘😘
Are you interested in what WARCRY Martial Arts has to offer you?
Special Offers